This will be Laiva's second and last litter. The puppies from her first litter completely convinced me. All have grown into great dogs. I have already seen some here on the sheep and they are convincing there too. They are also used in Agi, THS or as a rescue dog and are just great there!
In my opinion, the Ty x Laiva combination will produce quite fine working dogs that will impress with their stock sense and willingness to work. Of course, these puppies will also be able to shine in various areas of dog sports.
Both have an incredibly great feeling for the animals. Wide, fast crosses and a very good shot can also be credited to both. Laiva is reserved with strangers. However, after a short period of getting to know each other, she also likes to sit on strangers' laps. Ty is an open and friendly male. His first puppies with Laiva's sister Peaches are outstanding.
I can be reached at any time by email or phone for further information and questions.
Pinu (Levi x Raven 2021) is being trained as a species detection dog by his owners Brenda and Adam. I'm totally fascinated and proud of the three... just great what this
Topinambur
Pups and his people achieve!
Today some news from our caterpillar tracker dog 😄. For eight months we have been practicing, with lots of play, fun and joy, for Pinu to find and display a certain scent. The week before last we retrained him for the real scent of caterpillars during the training holidays and continued practicing in the garden. And yesterday we visited the only May bird population in Baden-Württemberg for the first time and watched with excitement whether Pinu would find caterpillars
(which we hadn't hidden)
in the terrain. And this is what it looked like:
Our hero led us to 9 caterpillars on 4 areas 💪🍾🎉🥰 it's incredible what he's doing and we also admire him for how seriously he takes his job

...and of course all this with official approval!!!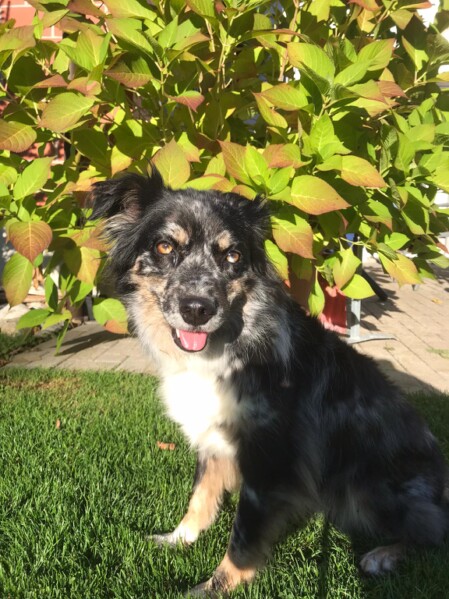 Little Pearl (
Trouble x Bear
) passed her BH1 in Switzerland with her owner Svenja.
Svenja writes:
"Pearl also passed her BH1 exam today 🎉😁
I'm very proud of her. In the nose work she got 94/100 points 😊 "
Congratulations on that .... great achievement !!
Dates 2020 at Topinambur Aussies
March 21. - 22. 2020 Herding clinic on sheep with Nicole Linnemann and Natascha Hartmann of Rasta Aussies. For beginners and advanced. Infos and Entry per E-Mail or Mobile: +49 170-4877428
canceled
March
07. - 08. 2020
Rally O Seminar with Undine Bresch.
Infos and Entry
per
E-Mail
or Mobile: +49 170-4877428
October
03. - 04. 2020
ASCA Sanctioned Rally Obedience Trial, Richter: ??
canceled
October 2019
This year I was finally able to breathe trial air with my girls.
I started Laiva in all three classes for the first time in September ... and it was just great. She had 8 starts in two days and got 7 qualifying scores ... the ducks weren't so good for us ;-) At the end of these two days the mouse was rewarded with the High combined started all weekend award ....
Two weeks later we went to Wrohm for a trial and Laiva also completed each of her 5 runs with a qualifying score.
I am really super proud of her development and I look forward to working with her.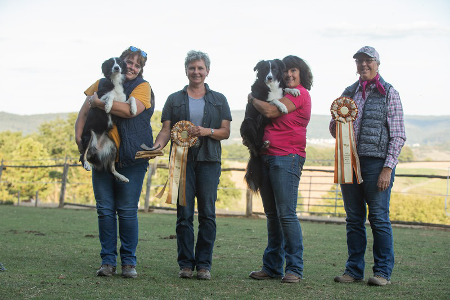 In Wrohm I spontaneously entered the P´Twochen ... ..our first starts in the advanced class ...... what can I say: it was just great ... .. with scores of 111 and 101 on sheep and geese, she
mastered
her debut
more
as sovereign !!
And if I hadn't just crossed the line in the second sheep run ... well ... then. :-)
But next year I promise improvement ....
We were on the late summer trial in Hösbach. My three girls did a great job.
Peaches made her Working Trial Champion with great cattle runs.
Raven showed what she can do in the open class with ducks and sheep and was rewarded with scores of 111/110/111/100/104/102.
She also earned the High In Trial Open Rosette twice.
And then there was P'Two, which I actually did not want to start this year but now well ... we dared sheep and ducks and it was simply awesome!
With 6 qualifying scores at 6 starts on the two animal species with 94/92/91/87 / etc. points she has achieved her started titles and then also won the HIGH COMBINED STARTED ALL WEEKEND AWARD Rosettes ... .. I'm so super proud !!!
Of course, I also don't forget Kathrin with Phoenix (Ruby x Keen), who did mega beautiful runs and the sisters score head-to-head ...
. great job you two!
...
.and then Anita with Foxi (Peachy x Dude), who convinced with great performances on their first trial and were rewarded with the started title for sheep and cattle ...
great team the two!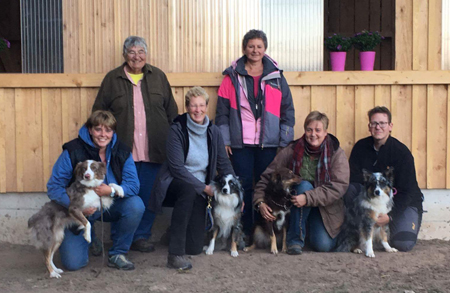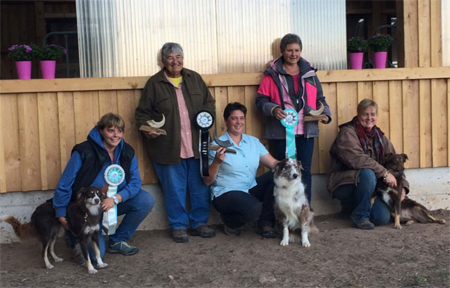 ---
Phoenix and Raven (Ruby x Keen) rocked the first trial in 2017.
It was the first trial ever for Raven.
Both girls did great runs and can now be proud of
the title "Open Trial Dog ducks sheep (OTDds)".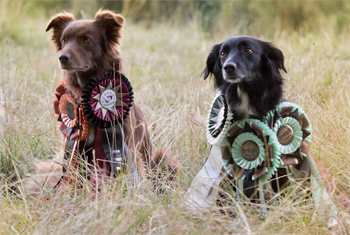 ---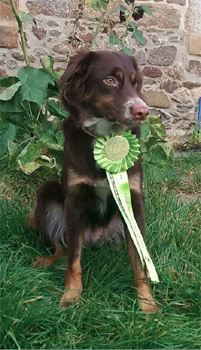 Also the little nose white Topinambur's Starlight "Curly"
(Peachy x Dude) has passed her companion dog exam with Mistress Carola and will surely rock the agi scene soon
.... what diligent puppies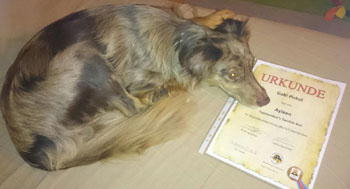 Topinambur's TwinkleStar "Ayleen" on November 13th. 2016 with Mistress Gaby passed her companion dog exam with a very good! Well done....
congratulations little star!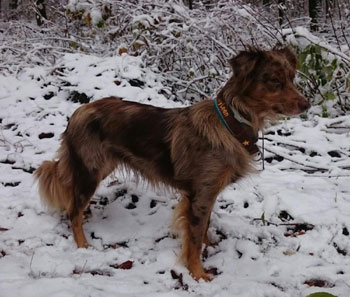 ---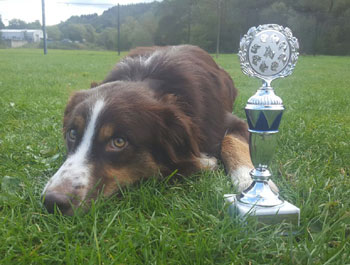 Topinambur stargazer "Dwyn" (Peaches x Dude) passed his companion dog exam with his mistress Nina!
Congratulations!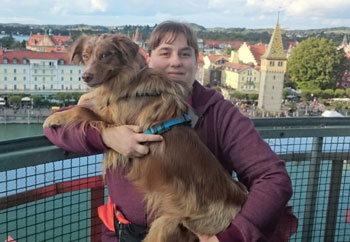 .... and also Topinambur's twinkle star "Ayleen" (Peaches x Dude) has successfully completed her first pre-examination devices and detaching with Mum Gaby, part of the prerequisites for the rescue dog examination. Here too ... congratulations!
---
.... and also Topinambur's twinkle star "Ayleen" (Peaches x Dude) has successfully completed her first pre-examination devices and detaching with Mum Gaby, part of the prerequisites for the rescue dog examination. Here too ... congratulations!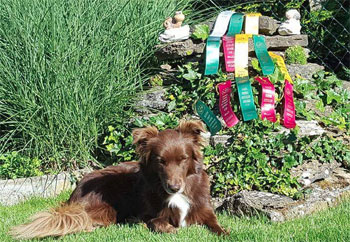 Phoenix "Topinambur's fantastic four" achieved her title with super beautiful runs on sheep and another leg on the ducks .... which Phoenix had only "seen" twice until this weekend .... Kathrin and Phoenix did great. ..real teamwork !!!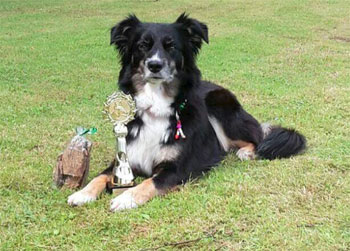 Malu "Topinambur's seven up" did a zero error run with Maren on her first agility tournament in the A run ....
Result: 2nd place and qualification. ..... here too, great job .... Great team !!!!