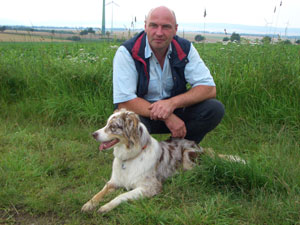 My husband Burkhard and I, Nicole, live with our eight Aussies, our 2 horses Jolly and Paul, our pony Nelly, 3 kittens, about 50 sheep and some poultry on a farm in the small village Ringelheim on the edge of the Vorharz.
Our Cookie moved in with us in 2004. I wanted a dog that accompanied me on rides and with which I can do agility, and Burkhard looked for a dog that accompanied him on the tractor and chopping beets;)
Somehow we came up with that
Australian Shepherd.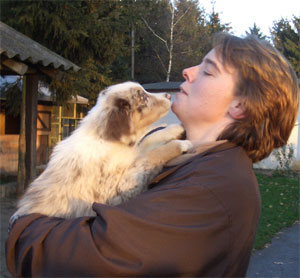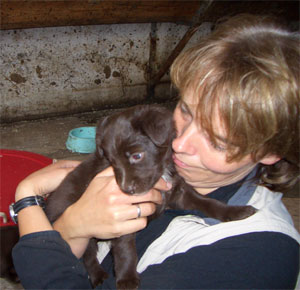 It didn't take long and we where addicted on the Aussie.
A Kennel name had to be found and it was obvious that it had something to do with our agriculture and the associated potatoes. So we came up with the Jerusalem artichokes;) a type of potato from North America and its blossoms belong to the sun / marigold type ... so perfect ... potatoes, Ringelheim, North America :)
In 2008 our first litter was born under the Kennel name Topinambur Aussies.
The herding virus caught me pretty quickly. I train my dogs as paddock-use dogs, who are always at my side in my daily work on our full-time farm. They are also trained in agility as a hobby.
I have been a member of the WEWASC since 2007 and regularly take part in ASCA herding trials with our dogs.

Topinambur Aussies is an ASCA registered Kennel.