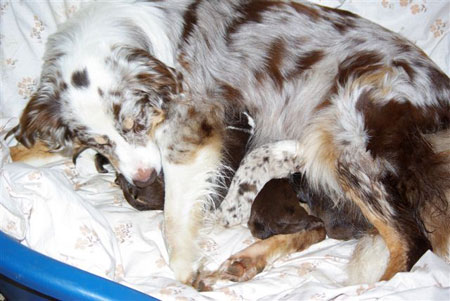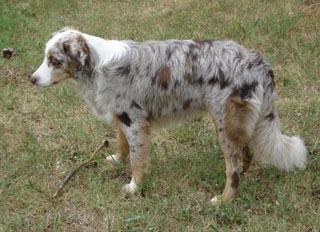 Topinambur's Red Hot Cox
Red Merle Male
Cox has now also found HIS people.
He will move in with Ingo, Britta and their two children. My greatest wish has come true for him and me .... Cox has some dog buddies and the most important thing in his new home .... he can continue to work on sheep :: :)))
More on that soon when he
has settled in.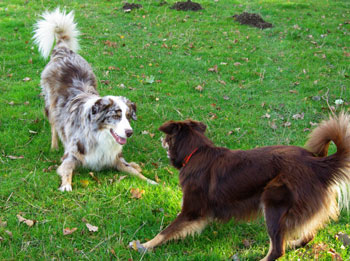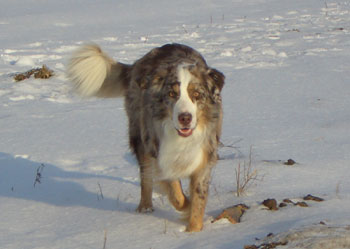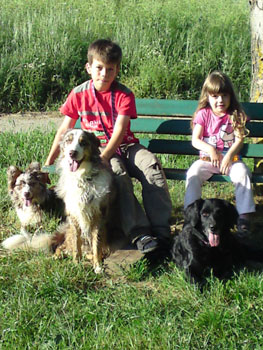 June 2011:
Cox has been at his new home since February and has settled in well there. According to Ingo and Britta, an absolutely lovable and uncomplicated guy. He gets along well with the children and his little Aussie buddy is a good role model. With Britta he has already mastered his first fun tournament and I have received the following report from Ingo:
Cox was on a fun tournament with Britta on Sunday. There was an agility course right from the start. Entry, tunnel, triangle climbing wall and exit. Britta put Cox down before the jump and stood at the side of the tunnel (didn't know if he knew that ...). Then she called him. Then he stopped behind the climbing wall and looked behind the wall ... are you finally coming ??. Britta was still standing in front of the tunnel with her mouth open ...
He also solved all the other exercises fantastically (let himself be driven in wheelbarrows, ignore meat cubes an inch in front of his nose, cover up, etc.) and was in a really great mood afterwards.
I am so happy for this great dog that we have found the absolute best people for him. Thank you Britta and Ingo for giving our heart dog this chance and the Coxl can finally show you what a great dog he is !!!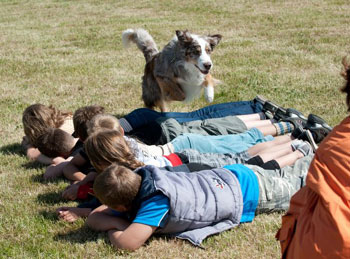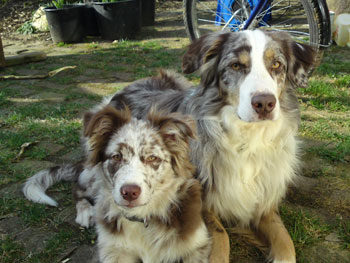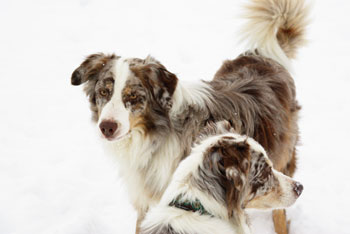 Topinambur's Red Hot Pepper
Red Tri Female
Pepper now lives with our friend Kurt Rissling and will later be able to take care of a 50-head flock there and thus take the work off her mother Cookie at some point;)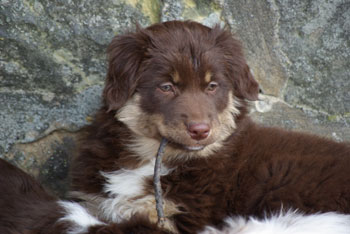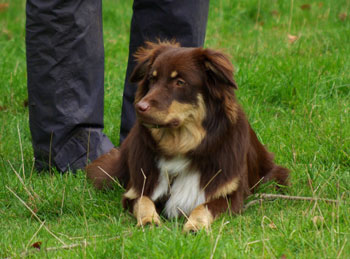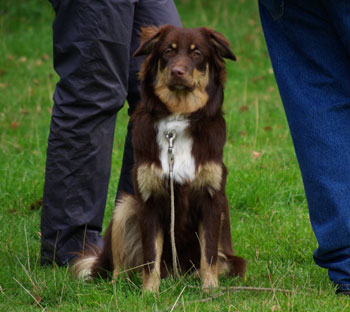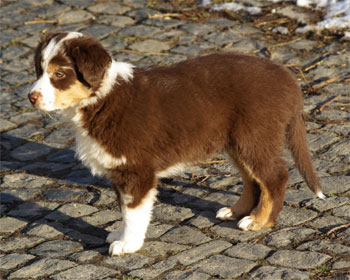 Topinambur's Red Hot Gimli
Red Merle Male
Gimli now lives with Jana and Tommy in Geitelde. It was not particularly difficult for him to say goodbye, when I put him in the car he happily wagged his tail :) If he is old enough, Jana will test him on the sheep and maybe start agility. But first he is just loved and cuddled by the whole family;)
Gimli has already developed into a handsome young male. A pretty guy with a great character.
We see him and Jana almost weekly because he and Zora and Ruby attend the "Baby" agility lesson and he is an absolute natural talent. Jana and he really enjoy it.
The two have already made their first little herding attempts under the guidance of Sandra and I have to say: very nice and absolutely expandable, we will do it all in winter
go on and I'm looking forward to it.
Thank you Jana for giving this great guy such a beautiful and active home.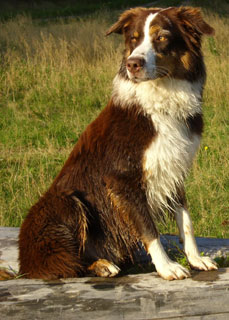 Topinambur's Red Hot Jingle
Red Tri Female
Jingle has settled in really well with Carmen and Michael and is the one
whole family pride.
In the dog school a little nerd;) and when traveling an absolute treasure that can be taken anywhere.
No matter whether hotel, café or restaurant. She has already attended the first obedience seminar and will soon be testing the herding disposition.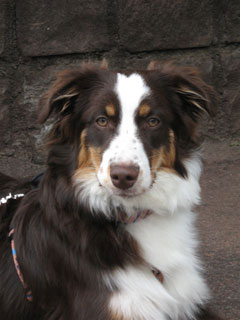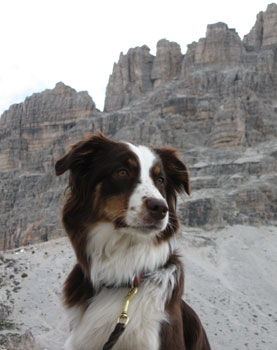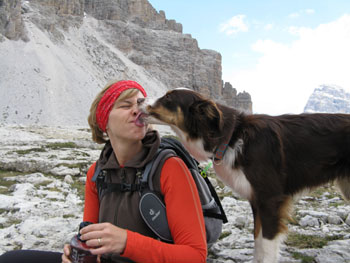 Red Tri Female
this little mouse stays with us and will enrich our little pack.
She is the happiest and friendliest dog on God's earth :)
Topinambur's Red Hot Zora
Red Tri Female
Zora was the first to move out and is now messing up the life of Aussie bitch Joy;) She can now first enjoy her puppy time with Petra and Nina Stikuts in Bad Harzburg and maybe will be active with Petra in agility, well and she will have a look at
sheep
too
:)
An Aussie is an active dog that is a great companion when used properly. We expect from this mating active dogs with good herding instincts.
We are happy to answer your questions!
Telefon: +49 5341-1888604